Day 1 – August 6th, 2014 – departure London, Ontario – 0740hrs
Three day forecast calling for clear skies.
We, and by we I mean JR riding his Kawi Versys which he cleverly rebranded by carefully removing the tank decals and replacing them with "Kwikasfaki" and SB driving his shiny new 2014 Ford Mustang convertible. For a variety of reasons SB traded in his motorcycle this season on the convertible. A better fit for life at this point. Semi-retired he is still up for a tour at the drop of a hat and we have shared a lot of miles together so he has a free pass on the motorcycle tours. Truth be told it was handy having the car around. Useful on more than one occasion. For example a problem with the GoPro battery and SB was able to plug it in and charge it as we scooted along. This meant we did miss out on some nice vid capture.
As often happens when I get riding along, I get thinking because other than looking at the scenery that is about all there is to do when left to your own devices inside the solitude of a helmet.
I am going to have to come up with a system of dicating my thoughts via a microphone inside my helmet because I had all sorts of humours ideas for content here and as usual I have forgotten 90% of it. I'm not sure talking to myself is necessarily the answer but I'm in their alone so who will know.
The day started with a straight forward run for the border crossing at Fort Erie. I am not a fan of the bloated border crossings we have to endure to escape Southwestern Ontario. I think it would improve tourism both ways if this wasn't such a chore.
Ontario has some amazing spots to visit on little two and three day excursions so I will preface my next comment with, "I love Tobermory and all areas of Ontario easily reachable in a day or two" but when you consider in the same 4 hours it takes you to get to the Upper Bruce you can be well into NY or very close to the mountains of PA. Just sayin, it's a nice option. One not exercised often enough in large part due to….well as I said, fun and games at the border.
As luck would have it todays crossing was not bad. Maybe a half hour of shuffling slowly forward on the bike and it was my turn. Of our little group I was the first in line and after all the standard questions the USBP officer asked if the next motorcycle was with me. I said, "yes and the Ford Mustang behind him".  "A car" she stated, somewhat surprised. "Yes he just traded in his motorcycle and we still sort of like him so we let him come along", I said. She laughed and sent me on my way. The first time we stopped after the border he told JR and I that she threw us under the bus, said we were hacking on him a bit. They had a nice conversation at the end of which she apparently professed she'd rather tour in his mustang then on the back of a motorcycle……shama lama ding dong ……..and his heart grew three sizes that day. Didn't hurt his ego either, lol.
JR shared a story from a border crossing he did recently on trip to NY City and then up into Quebec on the return trip. He had selected a small remote crossing that work out well for the route they were taking and he thought his boys would find it cool by comparision to the larger crossings the were used to. When he pulled up he was asked the easily anticipated first question, "citizenship" but the second question took him back a bit, "Why did you pick this crossing". I guess they figure everyone thinks it will be a push over crossing at the small points. Now his inside voice said "Jeez, why!  You're not planning to look in the trunk are you? but then he explained why and things went waaaaaay smoother. But wouldn't part of you like to say it for shits and giggles.
We travelled away from the border toward Aurora on 400 but exited quickly to 20A eastbound toward Letchworth State Park .
We were only about 4 hours into our little adventure when we reached the park entrance. A lone, older gentleman was on duty. There was a row of cars and a second row for buses only. There were three busses in line and he was running back and forth attempting to deal with everyone in the order they arrived at the gate.
I pulled ahead as the car before me cleared. He said he'd be right back and rushed off to see to the buses.
I had the money in my hand when he returned (key point in just a moment), I paid, asked him for a map and moved on. I thought he was pleasant and helpful.  We stopped at the first parking area to look at the dam.
SB relayed to us that when he pulled ahead and handed the guy his cash and ……for the sake of the story lets just call him Crusty the Park Clown said, in a grumpy I don't care for motorcycles tone, "You'd think while I was looking after the busses they could at  least have their money ready." SB went onto suggest, "Well they have gloves on and such I guess it takes longer". "Yeah I guess so. You need a map?", snapped Crusty. "No, I'm with them", said SB. There was an awkward pause…….. followed by Crusty quietly mumbling "oh, sorry". SB pulled away. SB said he'd wished he had a picture of the expression on his face during the awkward moment as Crusty attempted to extricate his foot from his mouth. Important life lesson, don't say anything behind someone's back that you wouldn't say to their face. Or if you have a big mouth, small feet would be an asset.
We spent almost two hours making our way through the park. Stopping on several occasions to look around and take a few pictures.
Continuing south out of the park on 19A was a beautiful route following along the banks of the Genesee River. Then veering southwest, just shy of Wellsville, on 417 and following this to 44. We took 44 south and crossed into PA.
The sky was a little unwelcome looking depending on which direction you were pointing. That's PA for you. mountains and valleys play with the fronts that come off Lake Erie. With roads running like spiderwebs off in different directions its difficult to predict whether you need you rain gear or not. At one point JR and I were convinced that we were moments away from a torrential down pour so we reluctantly suited up. There was lots of evidence the precipitation was close by. On more than one occasion we rounded a bend in the road to see the moisture evaporating from the hot road surface like a low mist.
JR predicted at the beginning of the day that Coudersport PA would likely be a spot we could encounter rain. It sure did look like it but again nothing. The sky cleared and somewhere south of Oleona on 44 I removed my gear. JR declined citing the last time we had exercised a similar option he was out a pair of perfectly good leather riding gloves.
We had all brought camping gear but had some discussion about this and it was unanimous that we would search for a hotel or motel at the end of the day. Along this particular route camping was sparse and where we did see a campground it was mostly trailers. Must be a reason for that.
South on 44 to Haneyville, then carrying on down 664 to Lock Haven. where we stopped for the day.
Best Western in Lock Haven was very nice.  Restaurants on the other hand were very thin on options. I won't mention the name of the establishment we landed in but out of the 20 brands of beer listed on their menu they had 4 lite beers and were out of the rest. I order a  flat iron steak…..guess what….yup, out of that too. What they did have was OK.
650 kilometres by my rough calculations.
Day 2 – August 7th, 2014 – 0730hrs
Nice Continental breakie in the lobby and we are away to the races. cutting west- northwest out of Lock Haven on 120.  Of note Highway 120 follows the banks of the Susquehanna River and for those old enough to remember Abbot and Costello I need say no more. For everyone else you need to check You Tube for the Susquehanna Hat Company skit. I digress, not far along 120 we paused for an early morning photo op along the side of the highway.
We followed 120 to 1004 otherwise known as Hyner Run. A road that runs northeast through Hyner State Park. There will be video of this area to follow. We found a spot past the state park where we could pull over and we played……..I mean rode back and forth along a particular stretch for about 45 minutes.
Continuing on to where Hyner run connects with 44 we road north along a stretch we we had come south on yesterday. The plan was to take road 4005 southwest back toward Renovo but we discovered that dispite the existence of this road on my GPS and on the official map of PA it, in fact, did not exist. Perhaps the road map was from an alternative reality.
We elected to continue doubling back on 44, a win/win for sure, to 144 at Oleona where we would take 144 south.
JR fuelled up here at the junctions of 44 and 144.
We went south on 144 and at the junction with 4001 I made a last minute decision to follow 4001 instead of making the turn to  Tamarack. This was partly based on the sign I saw for the dam that we would find ahead. A good choice I think, beautiful stretch of road.
View looking back to the north from the dam.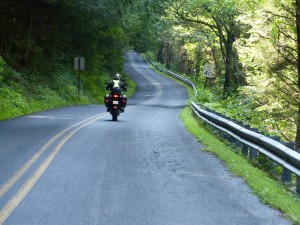 Connecting back with 120 near Westport we continued westish. It turns out that by days end these little modifications to the route were likely for the best for a few reasons. There was no scenery sacrificed in the making of these decisions.
Near Stirling Run JR pauses to see if whatever stung him in the face required CPR……alas it was too late. After a thorough grid search of the helmets interior to ensure the little huge bugger was gone we we're once again moving west on 120.
After passing what was quite possible the most convoluted attempt of traffic management through intersection design by the Marx  Brothers in St Marys we arrived in Ridgway.
Here I had decided on a series of roads I couldn't find on my GPS mapping software until I zoomed in to 200 meters.
We took Laurel Hill Rd west out of Ridgway. The first few kilometres are fantastic. The whole route was great but this first stretch, wow. This road turns into Spring Creek Rd and then Halton Rd before becoming 3002 and finally Loleta Rd into Marienville.
Marienville was to be the stop for day two but with the adjustments earlier in the day it was only about 1430 hrs.
I took a look on the map and we set our sights on a roundabout route to Kane PA just up  66 from Marienville. We headed north on 66 but went off on Blue Jay Rd and followed it to the shot below.
666N to 948N and east on 6 at Sheffield we eventually arrived in Kane.  It was still only about 1530 hrs but we elected to call it a day and this still put us in good position for the morning. We hit a party store with the thought of grabbing a couple beers each to kick back with only to discover in PA you can only buy a minimum of 24 in a party store. If you want a 6 pack you have to go to a bar or restaurant to buy it and of course it is more expensive. I will reserve comment on this peculiar legislation but I will say it seems to promote the potential for excessive drinking.
After a ride around Kane looking for accommodation and discovering that several listed on my GPS were no longer in business we finally arrived at the Kane Motel right in the heart of the thriving core area. It turned out that this search around Kane carried on just long enough for a friend of the winged terror that attempted to infiltrate JR's helmet earlier to seek me out.  He must have been very determined to avenge his cohort premature demise because he had to thread himself over my windshield, under my partially close visor and over the left arm of my glasses before impacting with a smack and stings to my left temple. I'm not sure what it was but it left one hell of a lump and multiple marks that was tender to the touch for a couple days.
After we settle in and had an ale or two we had a little walk around the downtown area hunting for dinner. The main street had a couple of restaurants, one of which was closed for a week while staff took a holiday.  We wandered into the only other one worth mentioning. The historical looking facade drew us in like Hansel and Gretel to a gingerbread house. We entered to find ourselves in an alcove which led to a dimly lit hallway that stretched out in front of us and led away from the street and into the bowels of the establishment. We arrived at a closed door at the end of this hallway and paused to look through the heavily tinted glass. What was revealed inside was ……well I'll be kind and say it was underwhelming.  We glanced at one another and had a short discussion (1.5 seconds) and it was unanimous…..  nope, no way, ain't happenin. We wheeled to leave and got about half way down the hallway when from behind I heard a voice, clearly a woman, but I can only describe the voice as having a quality sort of  deep and similar to dragging a canvas bag full of gravel over asphalt. JR actually whimpered I think, at least in my mind he did or maybe it was me.  "Where you going, you coming back", she said in a sort of desperate you're my only customers tone. We promised we'd be back and continued out to the sidewalk. I suspect she is still waiting.
We finally arrived at spot, originally recommended by the motel owner, called the Texas Hot Lunch and it turned out to be a pretty good spot. Afterwards we retired to some chairs in front of our room at the Kane Motel we enjoyed several ale and a cigar. We struck up a conversation with a chap in the next room, a retired firefighter named Mike who was travelling around doing research for a book he was writing on forest fire fight. A very pleasant evening of conversation.
378 kilometres
Day 3 – August 8th, 2014
We departed early, just before 7 with the thought of getting a couple hours under our belts before stopping for breakfast.
It was very foggy and 9 Celsius, we've camped in much cooler weather but we were pleased with our motel decision. Literally a rough start to the day with the first 8 miles of  321 out of Kane being under construction and unlike its namesake SB's Mustang did not like gravel at all. I guess more accurately SB didn't like putting those two things together. The highway did turn back to asphalt and from what I could make out through the still heavy fog this road would certainly be a keeper. I was also able to make out through the fog several deer including the two that ran across the road in front of me. Not close enough to be any real concern but its never the one you see that ruins your day. I think these two made 4 that had run across the road in front us since Wednesday.
PA 321 passes into NY in the middle of a lush forest and becomes Highway 280. From 280 to Interstate 86 but only for a short distance before heading north on into Salamanca for fuel and breakfast across from the gas station in a strip plaza. This was like stepping into a smoke filled greasy spoon time machine but it was actually pretty good and it hit the spot.
Then we were off, north on 353 to 62.  In my head I started writing the lyrics to a possible top 40 hit, Salmonella in Salamanca. Salmonella in Salamanca, I should've seen it coming this belly ache-a. Sorry, not everything that comes to mind inside the helmet is gold.
I have done the route north on 219 back to the border and I would take 353/62 every time. The prettiest parts of 219 are south of Interstate 86. When 219 meets 86, 353 is only a couple kilometres to the west and the ride back up into Buffalo from this point on is much more relaxed on 353. You go slower through a few small towns but by the time you hit Buffalo I found the mass of interstates converging here far less stressful.
A bit of a wait crossing the border but not too bad. Back on Canadian soil and an easy run back to London.
All in all great trip. Lots of laughs as usual. Great route.
448 kilometres.
TOTAL – 1426 kilometres 
Download file: 2014 NY Penn Revised2.gpx