Day 18, July 7th and another early start, 6:20 and we were on the road with clearing skies and a temperature of 36 degrees Fahrenheit.
We could not possibly have begun to comprehend the beauty we would see that day. It would be a tossup between this day and day 8 and 9 for the most visually stimulating day.
We travelled along highway 212 ascending Bear Tooth Pass to an elevation of 10,974 feet and passing into Montana again. The scenery along this section defies description with the sun shining down on the still snow capped peaks, the fresh mountain air and the road snaking its way back and forth up over the top and descending down to the valley floor on the Montana side. There was evidence of some substantial landslides along the side of the road reminding us that this area could be as dangerous as it is beautiful.
Where we needed to get to that day the only practical way to get there was to go back over the top of Bear Tooth Pass. So after a nice breakfast at a little spot in Red Lodge off we set. I had mixed emotions about traveling the same route we had just done…..yeah right. I could go back and forth over the pass all day long and I'm pretty certain I wouldn't get bored.
So Bear Tooth Pass twice in one day, well you'd think that would be enough and you'd be wrong. Once we got back over the pass we took highway 296 toward Cody, Wyoming. This route is also known as the Chief Joseph Scenic Highway and was absolutely incredible. I think it was right around this point that dad told me for the second time that I had outdone myself with the route.
We were not done yet. In Cody as highway 14 continues east there are a north route and a south route. We elected to take the north route which passes through Big Horn Canyon National Recreation Area. I have a friend who was on a trip that took him through this area a couple of weeks ahead of us and later when we compared notes it was clear, north route, south route it would be hard to go wrong. The weather was absolutely perfect for us but his experience was a bit different. He was at elevation under bleak skies when he rounded a curve right into a snow storm. It didn't last long but provided for a white knuckle moment for him.
We encountered more buffalo here, an amazing animal. They were right up on the roadway and don't seem to be bothered at all by all the cars.
The route down off the mountain was a series of switchbacks that were an absolute blast. We connected with Interstate 90 and a short distance later we stopped in Buffalo, Wyoming for the night at the Blue Gables Motel.
Day 19, July 8th another early start with the only highway to take being Interstate 90. We followed this to near Moorcroft where we turned north on hwy 14 to Devil's Tower, Wyoming.
Not long on hwy 14 the oncoming traffic began flashing their headlights at everyone and then I could see in the distance traffic was slowing. Immediately your mind jumps to what, an accident and of course the thought of "I hope no one is seriously injured." As we crested the next hill we were faced with a slightly different situation, cowboys and cattle. Yep partner a genuine cattle drive right down the middle of the highway. Hum now there's something you don't see every day or I guess around there maybe it is.
Now where was, oh yeah the tower, I had wanted to see the tower since I was introduced to it in the 1977 classic, Close Encounters of the Third Kind, starring Richard Dreyfuss, where it was portrayed as this mysterious location that celestial beings would use as a docking station for their spacecraft. We spent a bit of time looking around and got a number of good pictures before pressing on. Going for a short hike here might be the only thing I would change if I were to go back. At the time it didn't seem necessary. Of course this is always a bit difficult when travelling by bike as there are limited means of securing all the gear you are carrying.
We continued around the hwy 14 loop to Sundance a town named after the sun dance ceremony practiced by several North American Indian Nations but probably better known because of the man that earned his nickname there. In 1888 after his release from a Sundance jail Harry Longabaugh became better known as the Sundance Kid. When I think about the distance we were from Telluride, Colorado and reflect on the activities of Butch Cassidy his eventual partner, I am struck by far apart these two locations were and at a time when their primary source of transportation would have been horseback, it is truly amazing that these two men ever crossed paths let alone that they would go on to be the stuff legends are made of.
From Sundance we took hwy 585 south where it connected to hwy 85. We took hwy 85 north all the way to Deadwood. It was a slightly different route into the area then I had planned on but it turned out to be great.
It was shortly after noon but we decided to get room and spend the rest of the day roaming around Deadwood. We managed to find a room at the historic Franklin Hotel named after a local entrepreneur and businessman Harris Franklin. The businessmen of Deadwood had been trying to build a hotel for years but it wasn't until Franklin came forward and personal offered to match dollar for dollar any money raised that they finally had the funds to move forward and the Franklin opened in 1903. The hotel has seen tough times over the years and in 2005 was purchased by the Silverado Gaming Establishment and is currently undergoing a 7 million dollar makeover.  A lot of famous people have laid their heads to rest inside those walls over the years, including Buffalo Bill Cody, Theodore Roosevelt, William Taft and John Wayne.
We strolled the main street, checked out the shops, watched a couple of gunfight reenactments and had a beer in the bar were Wild Bill Hickok was shot dead by a sore loser after a poker game in 1876. We jumped on a tour bus and took a ride through Deadwood to Boot Hill and the gravesites of Wild Bill and Calamity Jane. Point of interest, despite the stories Hollywood has woven around the relationship between these two people the truth is that they hardly knew each other. All in all our day in Deadwood was a very interesting one.
Day 20, July 9th now if you have a map you would need it to follow along with today's travels. We went south of 385 to Custer where we turned east on 16. We took a short side trip off on the Wildlife Loop Rd. and then continued east on 16 to Iron Mountain Road. This is a must see when in the area and the best way to experience it is to come north so that you get to see Mt. Rushmore as you pass through a series of tunnels cut in the rock along this road.
We stopped at Mt. Rushmore and took some pictures. It might have been neat to go for a hike up to the base of the mountain but really other than getting sweaty and being able to get a much closer look at the presidential granite nostril hair there wasn't any need.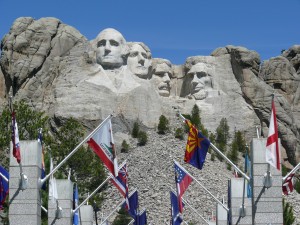 We carried on north on Iron Mountain Road/ hwy 16 then west on 244 and south on 385 for the second time today but only briefly as we turned east on 87 perhaps better known as Needles Scenic Drive. This is a very interesting drive and another must see when in the area. We stopped and I did a little rock climbing in search of the perfect spot to take some pictures.
Back on the road this drive connects back to hwy 16 again and we headed east to where 16 becomes 36 and eventually meets with 79 north to Rapid City. In Rapid City we took hwy 44 which runs east through the Badlands. Inside the Badlands we took hwy 240 north through the heart of the Badlands a truly remarkable drive.
Highway 240 eventually leads to Wall and the famous Wall Drug store which of course we took a walk through. It you need it and even if you don't you can probably find it inside the walls of the Wall Drug store. There were the normal snacks and souvenirs but then there was all the leather products like a complete 6 gun rig or the stars and stripes cowboy boots for the geographically challenged cowboy just in case he forgets where he is.
As we left Wall we took Interstate 90 east and stopped for the night in Murdo. After dinner at the Rusty Spur which was next to the motel we had a discussion about the route from this point forward. We had intended to head south into Nebraska and the east but instead we opted to continue east across South Dakota into Minnesota. The next discussion centered on the distance to home. We decided that we had seen everything we had set out to at this point and that we could be home in a couple of days barring the unforeseen.
Day 20, July 10th we continued east on Interstate 90 leaving South Dakota behind us and passing into and through Minnesota ending the day in Wisconsin about 1100 kilometers further down the road from where we started the day. Travelling the interstate is not the way to take in the scenery but it does tend to get you from A to B reasonably quick and it made for a pretty straight forward day. It was dad's birthday so I gave him the cards I have been carrying for about 11,000 kilometers since we left home.
Day 21, July 11th the skies to the east did not look inviting in the least so we got our raingear on and set out. I cannot possibly overstate how much I dislike taking the interstate through Chicago. It is like anything I suppose you could get used to it and it would be a different experience if you travelled it a lot but if it were not for the GPS it would have been a very unpleasant experience.
With Chicago behind us I for one was more relaxed. We still had a long drive ahead but it was a clear sign that that evening we would be sleeping in our own beds.
All along we had been telling family that we are on track with our original projections to arrive home around July 15th so everyone was quite surprised when we pulled in the driveway a little after 5 that afternoon, 852 kilometers for the final leg of the journey.
We saw a lot of extraordinary scenery on this trip; we had some good conversations, a lot of laughs, took a lot of pictures and made some good memories. As the picture fades to black on this trip its true what they say, just like in life, it's all about the journey.
"Remember what Bilbo used to say: It's a dangerous business, Frodo, going out your door. You step onto the road, and if you don't keep your feet, there's no knowing where you might be swept off to."
J.R.R. Tolkien (Lord of the Rings)
I encourage everyone to step out and get swept away.
If you stuck with the story and made it this far then here is a little treat.
ROUTE MAP DAYS 18 TO 21
Download file:
3Gen Day 18-21.gpx